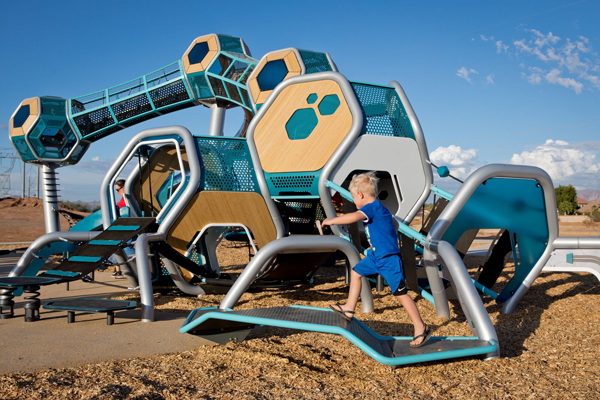 LANDSCAPE STRUCTURES NEW HEDRA™
Hedra™ provides a world where the next move is always the right one. A world where kids can safely navigate via their own intuition and curiosity. Where experiences and activities can't be counted, only created. Hedra offers the permission kids need to invent and reinvent routes, games, imaginary environments, and personal bests. It is one world with endless outcomes. A world where the answer is always YES, and… [watch video]
LANDSCAPE STRUCTURES NEW GEOPLEX™
Add excitement and style to any playground with the abstract, geometric designs of GeoPlex™. [watch video]
LANDSCAPE STRUCTURES NEW SMART PLAY® LOFT
This fun, quirky playhouse is designed for youngsters who are ready to explore. With 20 developmentally appropriate activities and to levels of play, this structure offers 2-5 year olds a chance to climb, slide, play, imagine and learn. We've done all the design work to create a special play experience for this age group. All you have to do is pick a color. [watch video]
LANDSCAPE STRUCTURES NEW SMART PLAY® NOOK
A playhouse perfectly designed for the youngest playground goers! Featuring 20 developmentally appropriate activities, this whimsical structure has opportunities for infants who are just learning to sit and crawl up to toddlers who are practicing walking. We've thoughtfully designed a unique play experience specifically for 6-23 month olds. All you have to do is pick a color. [watch video]
GLOBAL MOTION™
The Global Motion™ rotating climber packs in plenty of fun such as climbing, spinning and running while creating a unique gathering and socializing place for kids of all abilities.
[watch video]
RHAPSODY™ OUTDOOR MUSICAL INSTRUMENTS
Rhapsody™ Outdoor Musical Instruments is a new, creative musical offering from Landscape Structures. The collection of chimes, metallophones, and drums encourage musicians young and old to discover music in an outdoor setting. These instruments are built for extreme temperatures and rigorous play.
[watch video]
SKYWAYS™
Designed to meet the demands of both heat and sun, SkyWays™ Shade Products offer the largest break from the sun. They are perfect for the playground and anywhere a large amount of shade coverage is needed—at the ball field, on the beach, in a parking lot.
DIGIFUSE™
Signaturize your playground with DigiFuse™ Panels from Landscape Structures. From school logos to historical maps, DigiFuse™ panels and signage will make any playground reflect its community.
DUMOR'S 500 SERIES
Using a modern and sleek design, DuMor's new 500 series bench can compliment any public space, while still providing the quality and attention to detail DuMor is known for. This contemporary design uses a TGIC-polyester powdercoated steel frame and is available with IPE, Douglas Fir or Recycled Plastic.
HEALTHBEAT® OUTDOOR FITNESS SYSTEM
Our HealthBeat® Outdoor Fitness System brings the best of the gym to the great outdoors. Perfect for parks, trails or next to your playground, HealthBeat® uses the latest exercise methodologies to provide a tailored workout for teens and adults of all fitness levels.