Since 1971, Landscape Structures playgrounds has been the global leader in playground fabrication and design. Founders Barb and Steve King created the continuous play concept that revolutionized the playground industry and put Landscape Structures on the forefront of play innovation to this day. Landscape Structures enhances children's lives by fostering and creating inspiring play experiences while honoring the environment. Better playgrounds. Better World.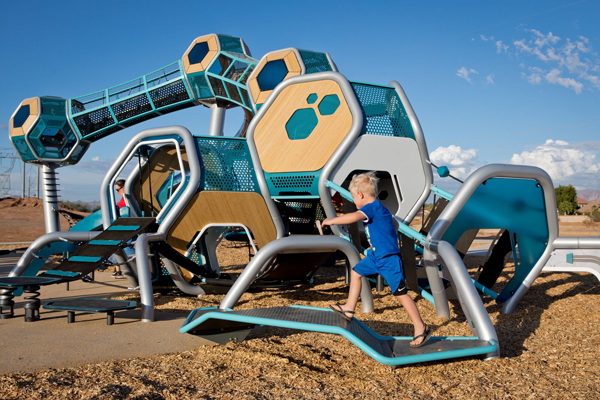 HEDRA™
Hedra™ provides a world where the next move is always the right one. A world where kids can safely navigate via their own intuition and curiosity. Where experiences and activities can't be counted, only created. Hedra offers the permission kids need to invent and reinvent routes, games, imaginary environments, and personal bests. It is one world with endless outcomes. A world where the answer is always YES, and…
PLAY NATURALLY
Designed to blend with its natural surroundings and inspire outdoor exploration and creativity, Landscape Structures' Play Naturally playground equipment provide kids with a sense of nature in a safe and controlled environment.
NETPLEX®
Netplex® pushes kids beyond their expected boundaries, into a world of interconnected cables where there's no right or wrong way. They can create their own path through a complex of multi-leveled, webbed nets.
EVOS® (5-12)
With more than 1,500 Evos® play structures located throughout the world, it attracts kids ages 5 to 12 outdoors with its unique design and challenging play experiences. Evos® is the first modern play system to be 100% recyclable.
WEEVOS® (2-5)
Weevos® is designed to meet the unique physical, cognitive, sensory,motor, and social needs of 2-5-year-olds. Its intriguing design captures preschoolers' imaginations as they explore, learn, and make new friends.
PLAYBOOSTER® (5-12)
The PlayBooster® playsystem, the original post-and-clamp system, combines exciting ground-level components with climbing events and overhead activities for kids ages 5 to 12.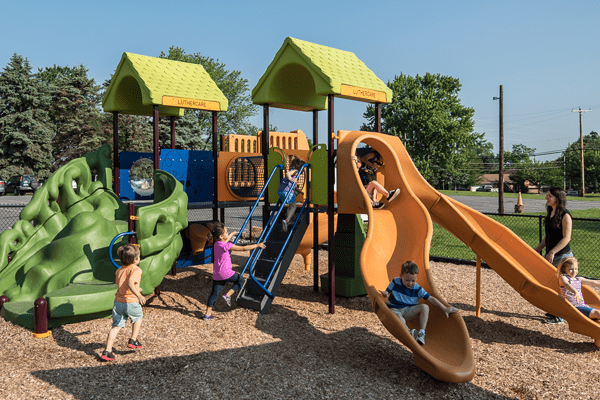 PLAYSHAPER® (2-5)
Let curious young minds go exploring on a safe and durable PlayShaper® play structure. Scaled to size for preschoolers, these play systems invite youngsters to develop their physical and social skills needed for community life.
SMARTPLAY® (2-5) & (5-12)
The Smartplay® Motion Cube and Venti provide over fourteen+ unique play events focused on developing children's cognitive, language, physical, and social skills. These accessible structures are scaled just right for preschoolers and school age children and pack a lot of play into their compact size.
FREESTANDING PLAY
From ZipKrooz™, our zip line for playgrounds, to Global Motion™ our rotating net climber, our freestanding playground events add fun and excitement to new and existing playground designs.
SIGNATURE
Landscape Structures challenges you to make your mark in your community. Our signature designed playgrounds will defy the "standard" playground by creating one-of-a-kind play spaces that reflect your community, culture, and environment. These signature playgrounds become destinations for the inner and outer community, spurring local commerce and creating a recreational beacon for everyone to enjoy.
GFRC
Glass Fiber Reinforced Concrete (GFRC) is Landscape Structures's ultra durable sculpting process that our talented artists and sculptures use to create climbable works of art. There is no creative limit to our GFRC capabilities. Whether its a giant scorpion, log cabin, dinosaur, or an artistic sculpture, we provide the highest quality of detail and durability in the industry.
MODIFIED
There are a billion different ways to play and a billion ways to modify our standard products to meet your design needs. We are happy to alter our classic play components to make your playground perfect in every way. A 40ft long rollerslide or a multi-leveled rope bridge are some out-of-box examples of putting a spin on the classic design.
THEMED
Our approach to custom and theme playgrounds is as individual as your imagination. Everything in our design process is driven by your goals and a singular idea. From trains, planes, and automobiles to giant fruit, aliens, and famous films, we can personalize every themed play space without diminishing the play value. If you dream it. We can make it.
UNIVERSALLY ACCESSIBLE LEADERS
Landscape Structures is the inclusive play leader because we believe all children have the right to play. RecWest is proud to have installed over 40+ (UAP) Universally Accessible Playgrounds, more than any other firm in the nation. A UAP is designed so children with physical limitations can experience every play event on the playground through ramps/ground based events.
SENSORY STIMULATION
Through sensory play, all children discover their world and how to be successful in it. Our inclusive playgrounds feature all play senses including: tactile, visual, auditory, vestibular, cognitive, proprioception, motor, and social. From roller slides to musical instruments we have every sense covered.
SAFETY, COMFORT AND ACCESS
We fabricate inclusive playgrounds so they are accessible for all. That means considersing site access and creating spaces that protect children from the elements and remove barriers.. Providing shade, resilient surfacing, and site furnishings for caretakers are all facets we consider within our design process.
TALKING IS TEACHING
Landscape Structures understands the importance of education in inclusive play. That's why we've partnered with Too Small to Fail's "Talking is Teaching" campaign that encourages young children and their caregivers to talk and learn together to promote playful, language-rich interactions. These signs are created through our Digifuse™ process that infuses powder coated High-Definition graphics onto steel panels.